Printer-friendly version
Title: ENT - Pittsburgh, PA
Premier Medical Associates (PMA) is seeking a BC/BE Otolaryngologist for the practice in Pittsburgh, Pennsylvania. With a team of 100 dedicated providers, PMA is the largest multi-specialty practice in the greater Pittsburgh area. Our organization is a physician led and professionally managed organization strategically aligned with Highmark BC/BS and Allegheny Healthcare Network.
The new Otolaryngology practice is located in the Penn Hills area of Pittsburgh. You will be joining one other physician in practice in this centrally located PMA clinic facility.
Position Highlights:
Comprehensive benefits including "tail" coverage
Production bonus/Quality bonus
Competitive compensation package
Shared call schedule
Staff: 1 PA-C, 1 Audiologist, Medical Assistants, Front Office staff
PMA is focused on being a leader in the delivery of efficient, high-quality care which drives down healthcare costs and improves patient outcome.  Our convenient locations in the eastern suburbs of Pittsburgh provide care in 22 medical and surgical specialties.  
Pittsburgh is a vibrant and growing city and has been voted "The Best Place to Live" in the US.
To learn more please contact:
Sarah Vincent
Physician & Advanced Practice Recruiter 
Cejka Search®
314-236-4435 Office
svincent@cejkasearch.com
www.cejkasearch.com
---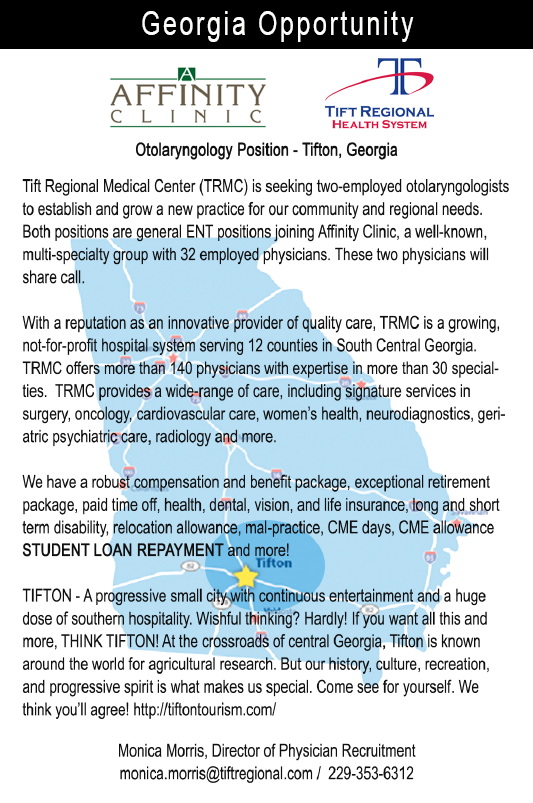 ---
Opening in your practice?
Looking for a fellowship?
Job Seekers & Recruiters,
CONNECT through
ENT Journal invites you to submit:
Positions Wanted
Positions Available
Fellowship Opportunities
Course & Conference Announcements
If you are seeking a position, place an ad to alert our readers to your availability.
Contact:
National Sales Manager 
Mark C. Horn
Phone: (216) 373-1229
Fax: (216) 394-0003